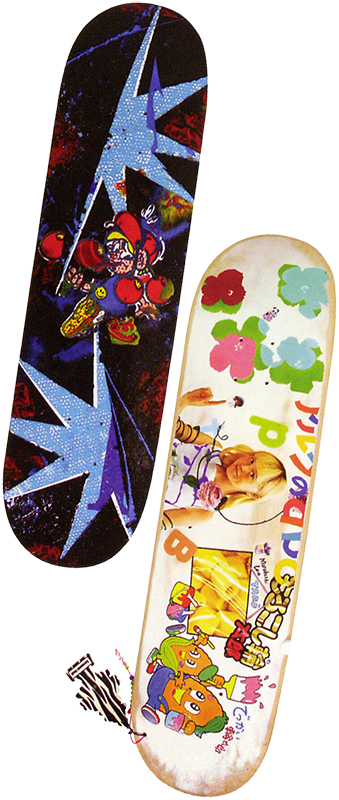 Joe Satake (Tokyo, Japan) Born in 1977. Established "Schnabel Effects" in 2002. As an artist, Satake has been producing printings and prints. And also, he has actively engaged in art pieces for various magazines, interior design, fashion, music, advertisement and others. Also, he has participated in a lot of exhibitions and art exhibits domesitically and internationally.
Satake creates and produces many art works with silkscreen of photograph. Many abstract visuals pieces out of magazines and pinups he comes up with. His skillful art works reflect graphic works of the media such as fashion magazines, his inspiration, and the techniques & trend of the photography. 
In the past, Satake set out graphic works and illustrations for magazines like "VOGUE JAPAN," "Harper's BAZAAR," "ELLE JAPON," and many others. He has also done many interior art works for stores and offices.
ailia
Tokyo -2005
IDU Tokyo Office
Tokyo – 2006
SJX
Tokyo – 2006
SJX KINGS & QUEENS
Tokyo&Sapporo – 2007
SJX KINGS & QUEENS
Tokyo&Sendai – 2008
NBRASSERIE PAUL BOCUSE GINZA
Tokyo – 2007
VADI/LU DORESS
Tokyo – 2007
IFC Showflat
Hong Kong – 2008
CLUB BACH
rgb(160, 158, 158)
3601
Osaka – 2009
Jardin Paul Bocuse P.BOCUSE & H.HIRAMATSU
Kanazawa – 2010
TSE YANG QATAR
Qatar – 2010
LA VEDUTA @ ST.REGIS boutique by Xintiandi
Shanghai – 2011
Wyndham the 4th
Hong Kong – 2012
FACE
Osaka – 2012
1967
Tokyo – 2013
Diamond Dining
Tokyo – 2013
Galerie
Osaka – 2014
"es" nakasu Rooftop Garden BAGUS
Fukuoka – 2014
Ascott Midtown Suzhoues
China – 2014
Veritas Investment
Tokyo – 2015
THE TENDER HOUSE
Tokyo – 2015
intitle
Tokyo – 2016
Solo exhibition "The Renina Live"
gallery ROCKET
Omotesando, Tokyo – 2003
Solo exhibition "NEW LOOK"
gallery ROCKET
Omotesando, Tokyo – 2003
Solo exhibition "MARRIAGE BLUE"
LABLINE. TV. Tokyo – 2003
Solo exhibition "BLENBY/TRENDY"
gallery ROCKET
Omotesando, Tokyo – 2005
The Best Debutant of the year 2005 Award
Ginza, Tokyo – 2005
Solo exhibition "Portrait by Artbooks"
GALLERY TARGET.
Harajuku, Tokyo – 2012
GEISAI-1 Asano Tadanobu Award & Scout Award
– 2002
The Best Debutant of the Year 2005
category of the Image & Graphics of the Japan Men's Fashion Unity – 2005
Graphic Design

Department
of
Tama Art Unibersity (BA)
– 2001